UVC disinfection is a good and proven solution to improve air hygiene. The effectiveness of UVC light itself has been scientifically proven in many situations. The challenge is to use these laboratory results for a system that works in practice.
Simply integrating a UVC lamp in an air channel, cooling coil or somewhere in an air handling unit is not a good idea. It is important to realise that there are two good options when it comes to integrating UVC light in your air handling system. The required investment and energy use of these two options is very different.
The basics: UVC light works against all sorts of micro-organisms
But not all organisms are equally sensitive to UVC radiation. Moulds for instance require a much higher dose than viruses and bacteria.
What does dose mean? The required dose is an amount of energy, the formula for this is dose intensity * time. The variable intensity can be changed with the type of UVC lamp or number of UVC lamps. The time is dependent on the air velocity. A longer contact time (slower air velocity) improves the disinfection results.

Option 1: disinfect all passing air

This is the right choice if your goal is to combat air-borne viruses. A system can be designed to remove 99% or more of all virus particles in the air in one go. This solution does normally not work against moulds or spores in the air because the contact time is too sure. But it will make sure that nothing grows close to where the UVC lamps are installed.
Pros:
Destroys air-borne organisms such as viruses and bacteria
Cons:
High energy use
Investment and operational costs
In some cases: generated heat in the airstream

Generally it is expected that for reach 500 m3/hour you will need approximately 50 watts of consumed power for your UVC lamps to disinfect an airstream. For an air handling unit processing 10.000 m3/hour the system will consume approximately 1kW. UVC LEDS are not suitable for this purpose because the efficiency is lower than a traditional UVC lamp.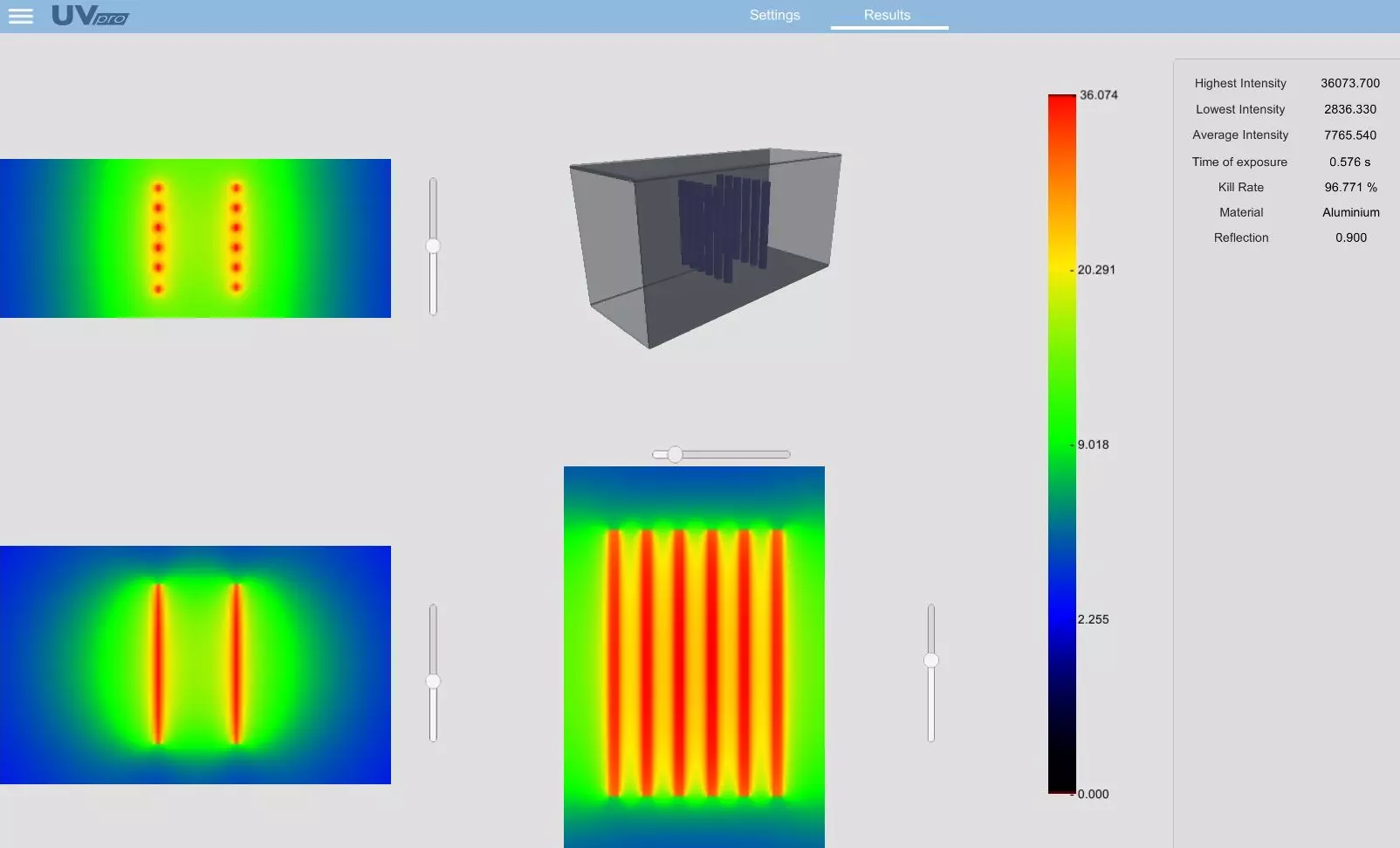 Option 2: disinfect the coil or heat exchanger

This option will prevent microbiological growth on coils, heat exchangers and in dripping pans. These parts of an AHU can be susceptible to mould and bacteria growth because of the moisture. In time this can infect the passing air with micro-organisms which reduces the air quality in the rooms where the air is supplied.
By installing a relatively small number of UV lamps close to the coil the growth of microorganisms is prevented. The required intensity is low because in this set up the same surface is radiated 24/7, which means you only require a few UVC lamps.
Pros:
Improved air quality by removing a potential contamination source
Can be built in to existing systems
Low energy use, low investment and low operational costs

Cons:
Does not work against viruses and bacteria in the air stream
Which option is right for you?

It depends on the result you aim to achieve. Do you want to remove viruses and bacteria from the air stream that are coming from outside or are recirculated from a room? → disinfect all passing air.
Are you aiming to improve air quality (general germ count) and would you like a more hygienic AHU? → disinfect the coil and/or heat exchanger.

Questions or need advice?
Contact us